ATTENTION!!!! ATTENTION!!!! ATTENTION!!!!
Due to unforeseen circumstances we will not be taking anymore
wedding reservations for 2016 and 2017.

Weddings already booked are secured, not to worry.
We are sorry for any inconveniences.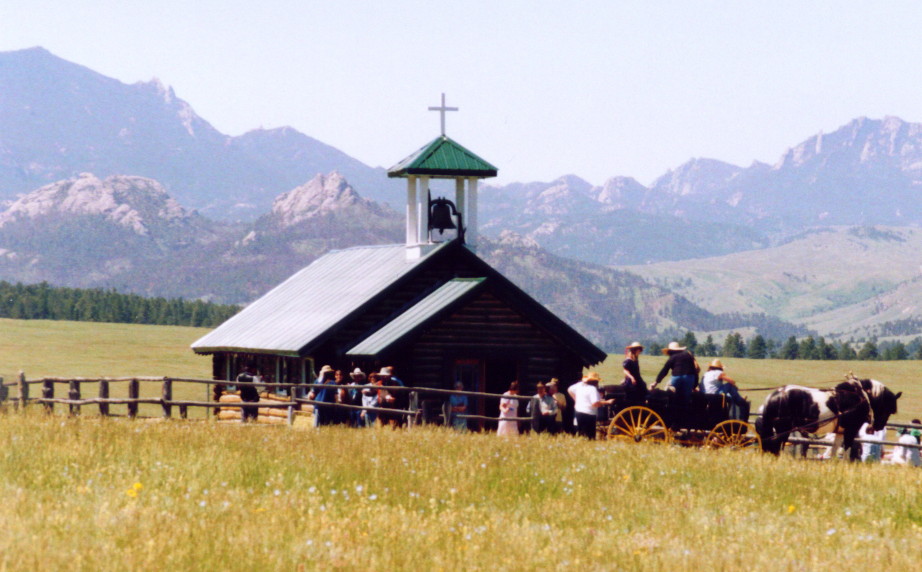 The folks at the Esterbrook Community Church welcome you in the Name of the Lord Jesus Christ!
We are a non-denominational church dedicated to the Gospel of Jesus Christ and sharing this truth, in love, to our community and beyond. You are welcome to join our worship service on Sundays at 11:00 AM. Come early (10:30am) to enjoy coffee, treats and good fellowship.
Due to winter weather, we have services at the church from Easter Sunday through October. We do have a very special candlelight Christmas Eve service. All are welcome!
The handmade log structure, built in 1943, sits beautifully at the base of Laramie Peak. With a spectacular view from the 15ft by 5ft window looking out over the mountain meadow to the peak, it has become a popular site for summer weddings. For wedding information please click on "Wedding Info" button above.
13 Therefore, prepare your minds for action; be self-controlled; set your hope fully on the grace to be given you when Jesus Christ is revealed. 14 As obedient children, do not conform to the evil desires you had when you lived in ignorance. 15 But just as he who called you is holy, so be holy in all you do; 16for it is written: "Be holy, because I am holy."