We are taking wedding reservations for 2019.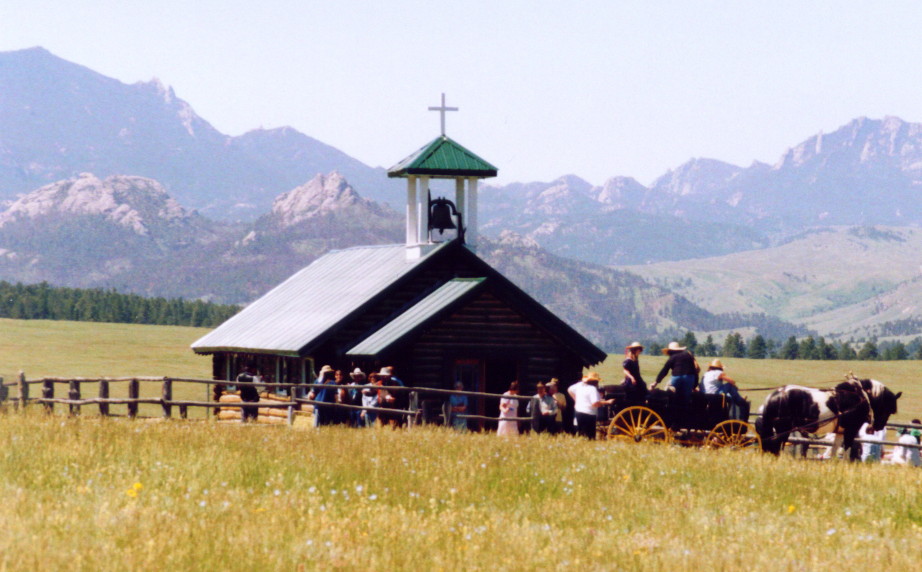 The folks at the Esterbrook Community Church welcome you in the Name of the Lord Jesus Christ!
We are a non-denominational church dedicated to the Gospel of Jesus Christ and sharing this truth, in love, to our community and beyond. You are welcome to join our worship service on Sundays at 11:00 AM. Come early (10:30am) to enjoy coffee, treats and good fellowship.
Due to winter weather, we have services at the church from Easter Sunday through October. We do have a very special candlelight Christmas Eve service. All are welcome!
The handmade log structure, built in 1943, sits beautifully at the base of Laramie Peak. With a spectacular view from the 13ft by 5ft window looking out over the mountain meadow to the peak, it has become a popular site for summer weddings. For wedding information please click on "Wedding Info" button above.
7 Is it not to share your food with the hungry and to provide the poor wanderer with shelteró when you see the naked, to clothe him, and not to turn away from your own flesh and blood? 8 Then your light will break forth like the dawn, and your healing will quickly appear; then your righteousness will go before you, and the glory of the LORD will be your rear guard.

Isaiah 58:7-8